Pot Rack
The CLOUD LIFT POT RACK
is the only rack on the market that makes both the
pots and the lids easily accessible.

You bought a pot rack,
and now you can show off your fancy kitchen-ware, plus
you now have 3-4 drawers free to use for other things.
But where do you put the lids?
Some pot racks have a metal grid attached to the inside
of the rack where you can place your lids.
Here's a typical pot rack.
But if you hang the rack high enough to avoid
bumping your head on the pots,
you'll never be able to reach the lids without a ladder.
The CLOUD LIFT pot rack
has solved that problem.

The slats have a cut-out in the middle big enough
for the knob or handle of the lid.
Raise the lid up and have the knob pass through the cut-out.

Next slide the lid over
so the knob rests on the main part of the slat.
Such a simple design solution, yet no one else
has found a way to address this lid problem.

Lids come in different shapes and sizes. My solution was
-make the slats in 2 different widths
– make the spaces between the slats adjustable
I added 2 more pieces of wood to the inside of the rack –
and drilled holes every 3/8″.
You change the spacing of the slats to-
fit the small flat lid (2nd lid from the left)

or the large domed lid (2nd lid from the right).
Racks are made of-

beech or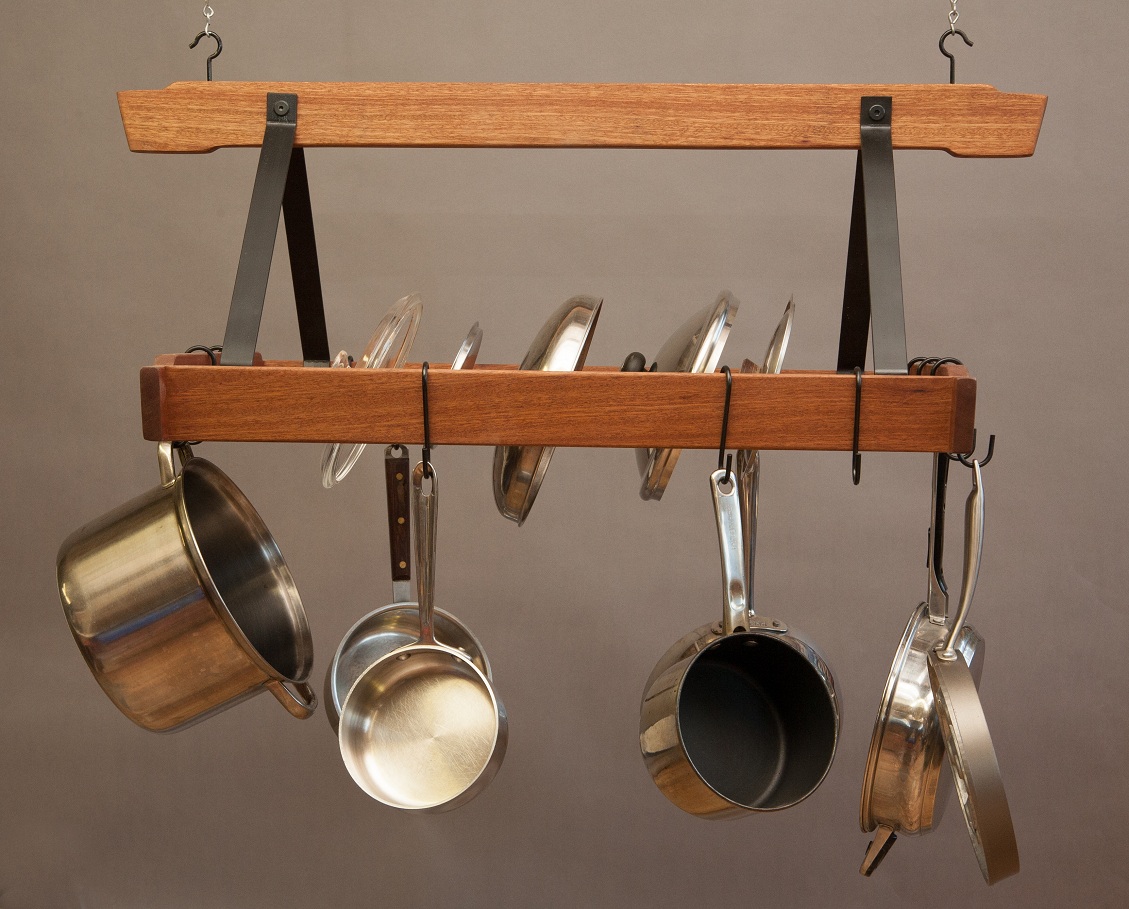 African mahogany
The standard model measures
32″ long, 23″ wide and 15″ tall- big enough for 10
pots and 9 lids.
It comes with chains and 2 large S-hooks to hang the rack.

and 10 pot hooks.
.
The CLOUD LIFT pot rack
can be customized,
made longer and wider to hold more pots and lids
Woods other than beech and African Mahogany
are available at an additional cost
the STANDARD MODEL  in beech or mahogany is
………………………………..$400